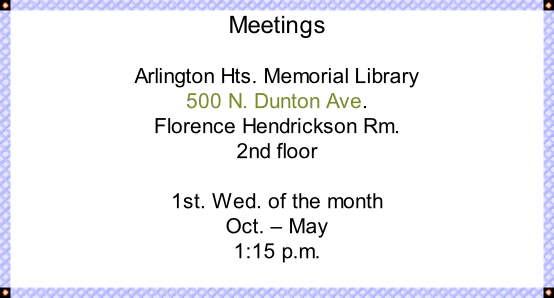 Officers
Pres.: Joy Moser
Vice President: Arlene McQuade
Treasurer: Barbara Jacobs
Corresponding and Recording Sec'y: Jacqueline Wells
For Membership Information:
Gail Shilts
910 W. St. James
Arlington Hts., IL 60005
Ph.: 847-818-9473
Or email Joy Moser
Women do not have to reside in Arlington Heights to
become a member
History
Our club was organized in 1887, State Federated in 1899, General Federation was in 1940. We are members of the 7th District of the GFWC-IL. We were started by a group of women who formed a library in a house. Through the years this library evolved into what is the current Arlington Hts. Memorial Library, with our meeting room named in honor of Florence J. Hendrickson, Club President, 1954-55.
Club Committees
Antique & Collectible Study Group
Education/Scholarships
Fundraising
Helping Hands
Afternoon Bridge
Bulletin/Newsletter
Membership
Oct. Make a Difference Day



Annual Club Projects
Annual Spring Fund Raiser Luncheon-Fashion Show which benefits area H.S. scholarships & other Philanthropies, that include:
Il. Burn Camp, NILS
Prevention of Child Abuse
Bingo at The Moorings Nursing Home
Box Tops for Education,
Cambell Soup Labels,
Monthly donations to Wheeling Food Pantry